EASY HOLIDAY PROJECTS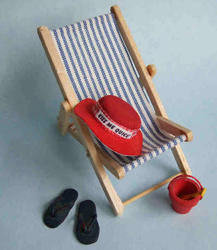 Kiss-Me-Quick-Hat

You will need:

Plain cotton fabric in a bright colour (a 12cm square should be enough)

Thin card

A cork from a wine-bottle

Clingfilm

Stiffy fabric stiffener or diluted Tacky glue

Tacky glue & scissors

1. Cover the cork with cling film.

2. Cut a piece of fabric approx. 7cm square and put it over the top of the cork.

Secure with an elastic band.

3. Dip it in Stiffy or diluted tacky glue and leave to dry.

4. Cut a circle from the card approx. 4.5cm in diameter to form the brim. Cover one side with a thin layer of tacky glue and stick it to the wrong side of the fabric. Cut out when dry. If you wish, you can cover both sides of the card circle, but as the real thing is just a cheap, throw-away holiday hat, it may well just be made from card anyway.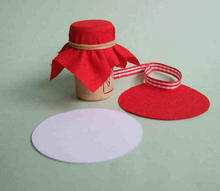 3. When the crown is dry, remove it from the cork and trim on the line left by the elastic band.
4. Now make a small hole in the centre of the brim and very gradually enlarge it until you can just pull it over the crown. When you are satisfied it is a good fit, glue round the base of the crown to hold it in place. Cover the join by gluing ribbon over it.
5. You will need to use your computer to print out the Kiss-me-Quick slogan, using a small font size. Glue this over the ribbon band at the front.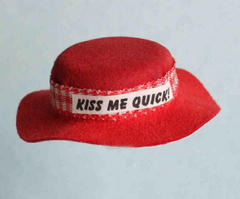 Bucket & Spade
Paint a mini plant pot in a bright colour. (I used acrylic paint).
For the handle, twist two lengths of embroidery thread together. Put a small blob of tacky glue on your finger and run the threads between finger & thumb to stiffen, then glue in place at either side of the "bucket".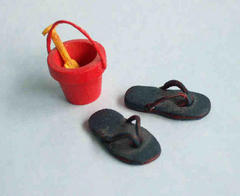 Flip-Flops
To make a template, draw round a doll's feet or shoes onto card and cut out.
Roll out some Fimo (or polymer clay of your choice) until it is quite thin.
Use the card template to cut out the feet shapes.
Now roll a very thin sausage of Fimo and cut it into pieces to form the straps. Press two of these gently into place on each flip-flop.
Before baking, put crumpled foil under the straps to hold them in position until cool. (Always follow manufacturers instructions for baking).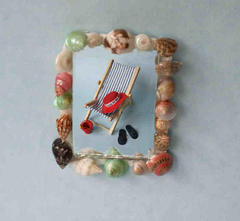 Shell-Mirror
If you are lucky enough to find tiny shells on holiday, you can use them in many miniature projects.
To make a frame for a mirror, first glue it onto strong card, leaving it slightly bigger than the mirror so that you have a base on which to stick your shells. Experiment with colours and shape of shells until you are satisfied with the arrangement, then use tacky glue to stick them in place.
If you have a mini beach hut, you could put the mirror inside it.
©Copyright
- Margaret Pitts

www.minimilliner.co.uk