Petite Properties Ltd
Petite Properties: Authentic Architecture in Miniature...
1:24th Scale - A Little bit of background...
Petite Properties are 'one off' dolls house creations, handcrafted in the highly collectible 1:24th scale.
Each property is individually designed and crafted by a professional 'architectural artist' to ultimately form part of an exclusive collection. Petite Properties are ideal for both the serious collector looking for that 'something different' or for miniaturists looking to experience the delightful 1:24th scale for the first time.
1:24th Scale Furniture, Accessories & Flowers...
Petite Properties also offer an extensive range of hand made 1:24th scale furniture, doors and flowers to complement the inside and outside of your half scale dolls house. The Country Living range of furniture offers characterful and traditional furniture at prices to suit every pocket....
website: www.petite-properties.com
Email: office@petite-properties.com
Tel: 01526 328738
1:24th & 1:48th Scale Specialists...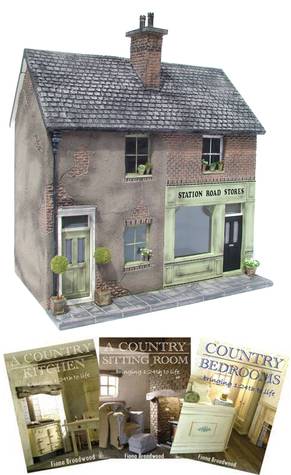 1:24th Series of 'How to...' books - Available now!
Do you want to make effective and realistic 1:24th scale furniture, but don't know how to get started? Do you want to bring your Petite Property interior to life and fill it for little or next to no cost?
Petite Properties are pleased to announce the release of the first three books in an extensive series of 'how to...' books written exclusively for the 1:24th scale by Bea (Fiona Broadwood)
*NEW*1:48th Collection of Houses and Furniture Books
Recently added to the Petite Properties' ever expanding portfolio is the new 1:48th range of 'Book & Kit Packages', from shops to cottages the range is not only life like, but architecturally accurate and detailed. For those miniaturists that prefer to build from scratch the new 1:48th Book and Kit range is a must for you.
With a precision cut 3mm MDF kit supplied and a simple and easy to follow step by step book, the finishes that will be obtained are unrivelled and simply breath taking and all from the most basic of craft materials.
To complement your 1:48th property, why not fill the interior by looking at our 1:48th Furniture book. The first book in this new series, teaches you how to create furniture from many different time periods to complement your 1:48th property and again all with the very basic craft materials and for only a few pence.
All projects that Bea (Fiona) Broadwood has written for both 1:24th and 1:48th scales are achievable without the use of any hard wood or woodworking skills, nor will you need expensive specialised materials…intrigued???? …You won't fail to be inspired!
For further information about this and other exciting new publications or our other products; please visit our website....