Kay's Miniature Dolls
Kay's Miniature Dolls by Kay brooke
I have been a professional doll artist for more than 35 years. I was a professional china painter before that. I learned to sew as a small child from my grandmother who, along with her mother, were professional dressmakers. It seems as though everything in my life conspired to eventually make me a doll artist.
Along the way I learned to sculpt at Jack Johnson's seminars and how to make molds from Anthony of Solvang. I never liked making molds…still don't.
I live and work in God's Country
I live in the USA in the Missouri Ozarks on a small non-working farm. My studio is in a 100 year old one room building that was the original dwelling for a family of six. When we moved here (to a beautiful almost new house) this little building had no water, electricity or insulation. My wonderful husband completely remodeled the building complete with running water, a gas fireplace, electricity and tons of cupboards, shelves and work tables and lots of big windows. I painted the outside a nice grey-blue. Hence the name, Little Blue Studio, my Ebay moniker.
I "work" out there every day except in the early spring when I devote my days to planting my veggie and flower gardens. I am a Master Gardener and gardening is my 2nd passion after doll making.
My miniature work
I started making miniatures in the 1980's when my Uncle, who was a miniature furniture artist and did miniature shows, asked me to make some porcelain tea sets for him. I also did miniature oil paintings and made a stab at making miniature porcelain dolls. The dolls were horrible as the only molds available at that time were from antique dolls. I only made a few from purchased greenware and decided I didn't want to do that anymore. If anyone would have told me at that time that I would one day become a miniature doll artist selling dolls all over the world I would have said they were crazy.
I started making miniature dolls a little over 3 years ago. I really thought making and selling porcelain dolls was no longer possible as it seemed the buying public was no longer interested. I then found the miniature site on Ebay and it looked like maybe there was a future in making dolls again.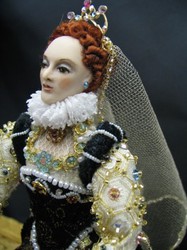 My Miniature Dolls
I make miniature porcelain dolls in the 1:12 scale. Many are made from commercial molds and some are my original sculpts, especially the historical people. There are two things about this work I especially love…painting faces and using exquisite fabrics and trims mostly antique or vintage. All of my dolls are china painted and fired many times. My costumes are all hand-sewn with no glue. Not that there is anything wrong with using glue. It's just that my Grandmother's spirit whispers in my ear when I'm sewing…"you CAN do it with needle and thread". So, that's how I do it.
I'm a history buff and have studied the history of costume for many years. While living in California I was fortunate to have made the acquaintance of a costume restorer for museums who allowed me to study the real antique dresses in his studio. Most of my dolls are dressed in accurate historical costumes. A few years ago while visiting England I spent the day at Hampton Court Palace hence my miniature dolls portraying Henry and his wives.
China Painting
A couple of years ago I found a source for miniature un-painted china (blanks). I bought some and tried to china paint on them. I found my mind was now attuned to "tiny" and I was able to successfully translate my large china painting patterns into the miniature world. I don't paint all that often anymore but every now and then I get the urge to paint, especially after I have just picked a beautiful bouquet of roses for the house.
Me and the 21st century
I have come kicking and screaming into the 21st century. I have a love-hate relationship with the computer. Designing my own website was the most difficult thing I have ever done. I still don't enjoy it. When my husband bought me a digital camera about 12 years ago, I hated it. Now, my digital camera is my best friend. And, let's face it…without the cyber world and digital imagery I would not be working in my Little Blue Studio.
Selling my Work
I sell my work mainly from my website www.kaysminidolls.com
I also sell occasionally on Ebay under the name: little_bluestudio
I also sell on Etsy and MOA
My e-mail address is kaybrooke@centurytel.net