MINI KNITS
How it all began....
At the age of 12 my mother spent many hours teaching me to knit, starting with just knit and purl then progressing to the more intricate patterns. I will always be grateful for her patience and skill in allowing me to do this great hobby.
In 2003 my sister showed a great interest in getting a dolls house. I just looked at her and said, "They are for children." How wrong I was. After taking her to a couple of dolls house fairs I became hooked. Yes, you've guessed it -- I got a dolls house, bought by my dear mother.
After many happy hours decorating and furnishing it, I was at a loose end until, at a dolls house fair, I saw a lady doing some miniature knitting. Well, as they say, 'the rest is history' and I was hooked.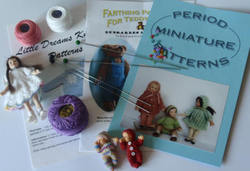 I hope you enjoy browsing my site and if you need any advice please do not hesitate to contact me.
There is a wide selection of yarns, needles and miniature haberdashery on the site, which will allow you to enjoy this great hobby and I am sure will give you many pleasurable hours.
Carol
annelorac1@annelorac1.wanadoo.co.uk