Ulrikes OOAK Babies
My name is Ulrike Leibling and I live in Thuringia - the "Green Heart of Germany".
I make baby dolls in real size and miniatures. All my miniature dolls are made from polymer clay in sizes from 40mm to 170mm.
Last year I concentrated more and more on working in 1:12 scale.
I am a self-taught artist. Over the time I developed my own techniques using polymer clay for clothes on fully sculpted dolls. I love the creative process of making each one of my sculpts unique in detail and character.
I sell my work in my CDHM gallery - http://www.cdhm.org/user/kulrike
on my website - http://www.ulrikes-ooak-babies.de
and private contacts.
I am happy to accept commissions. Feel free to contact me to discuss your ideas for a little baby and I will make your own.
You can see my work on my website www.ulrikes-ooak-babies.de .
All my work is one of a kind - you will get a unique creation.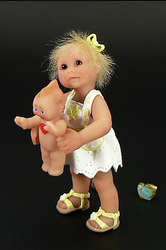 Photo above of Ashley and below is a photo of Ulrike.