ELF Miniatures
Modern kitchens, bedrooms, bathrooms and more.....
My foray into miniatures began some ten years ago when I made a traditional dolls house for my small daughter. I cut my teeth carving Georgian dining chairs and hand painting nursery furniture, but I soon decided to explore the possibilities of making high quality modern furniture and now specialise in fitted kitchens, bedrooms and bathrooms.
Whilst I do have a range of standard pieces, such as living room display units, office desks and freestanding wardrobes, most of my work is bespoke. I like to work closely with all my clients, to understand what they are looking for from the design and I work with them to perfect the scheme before I start the construction. The process is much like that undertaken for a real kitchen – without the mess of the building works!
Kits
I now produce my kitchens (and other ranges too) in kit form for those who prefer to have the satisfaction of making their own furniture, but I do offer a design service to help at the planning stage, so my contact with clients remains vital.
1/24th scale
I make both my kitchens and bathrooms in 1/24th scale, again with a fully bespoke service. I also accept commissions for other items in 1/24th.
Commissions
Many of the features that now form part of my standard ranges were originally requested by my clients, so if you don't see what you are looking for, please feel free to contact me to discuss the possibilities.
You can find me at Miniatura at the NEC, and at the Kensington Dollshouse Festival. My work is regularly featured in magazines both in the UK and the USA and my clientele is worldwide.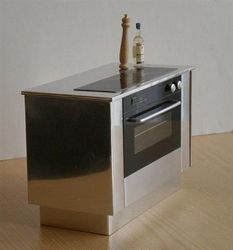 On the directory page is a photo of a Loft Bathroom.
Stainless Steel Island above, Cherry bespoke kitchen below.