Christine Elizabeth Dolls
Christine Elizabeth Dolls
I began costuming miniature dolls some ten years ago when I couldn't find quality dolls for my doll's house. Once I had made the 'household', I continued to make stand-alone figures for enjoyment. I am now interested in making groups of figures ~ 'Conversation Pieces'! The dolls can be bought as the tableau although they can be split for individual sale.
Over the past few years, friends have encouraged me to sell my work ~ hence my website. I am especially indebted to Lilyelf miniatures for their support.
I must stress that I am not a business and do not attend fairs ~ my work is only available through my website and the British Guild of Miniature Dollmakers of which I am proud to be a member.
A chronic illness means that I am unable to participate in paid employment and this reflects the speed at which I can make my dolls. Some weeks I am quite productive, other times the work has to be put on the 'back burner'.
I costume historically accurate dolls - ladies and children - from miniature porcelain doll parts. They are either stand-alone figures or form part of a tableau.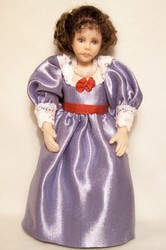 I draw inspiration from art, literature, history and the media, costuming the figures in exact 1:12 scale. I hand sew the clothes and use glue only when unavoidable. A beautiful array of silks and natural fabrics, ribbons and lace, braids and trims, combined with the correct wig, can transform a doll into a striking work of art.
I dress any era, using a library of costume history books and online resources for film and portraiture. All my work is OOAK (one of a kind) ~ the same doll is never repeated, so each is a unique creation.
Commissions are considered and additional photos can be sent of any doll on display.
Contact details