Ann Marie Miniatures Ltd
Shop Counters, Furniture, Turnings, Large Range of Floor & Wall Tiles
Background
Graham & Ann Marie Simpkin.
My name is Graham Simpkin. I trained as a cabinetmaker from leaving school then a career change saw me working as a manufacturing craftsman in the automotive industry "teaching robots to build cars".
I always kept up with the woodwork and in the early nineties, my father, who made miniature furniture, persuaded me to have a go at some small stuff. I was hooked! I slowly sold off my large machinery including an 11ft long monster of a pattern makers wood lathe, and set up a workshop to make miniatures. I knew I had found my ideal occupation; it combined my love of working with wood and the enjoyment of working to fine engineering like tolerances.
Myself and wife Ann Marie started trading in 1994 specialising in Shop counters, fittings, shelving etc with some furniture and turnings. Gradually expanding the ranges to include a completely different type of miniature, floor and wall tiles. We spent lots of time at the Jackfield tile museum at Ironbridge Gorge, and with much help and advice from the staff there, we developed our ranges of tile shapes and patterns.
Shop Counters Fittings etc.
All of our miniatures are accurate 1/12th and 1/24th scale reproductions of actual pieces that we have found in museums, old shops, and Victorian catalogues. We make counters for all types of shops, shelving units and single shelves suitable for every situation. Crates for produce, specialist items, Butchers blocks, Fishmongers slabs etc. We make miniature treen items for the Kitchen, also Washstands with a choice of wooden or beautiful Decrastone tops. (Decrastone is a material made up from a combination of acrylic and natural stone, it resembles granite or marble).
We also have ranges of Dressers, Tables, and Bookcases. Decrastone tops can be made to order in sizes to suit your project, or supplied from our list of popular stock sizes. All items in our ranges come fully assembled (NOT KITS). They are made from Jelutong, left in its natural colour, sanded to a high quality finish ready for you to stain or paint them to the colour and finish of your choice.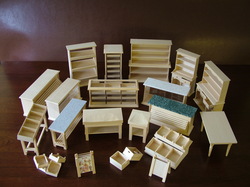 Floor and Wall Tiles
All our tiles are accurately cut from high quality laminates and real wood veneers. All the sizes and shapes are based on actual tiles and are carefully reproduced in miniature. We have floor packs suitable for all applications. There are a wide variety of colours to choose from in all our ranges. They can be coordinated to harmonize with any room setting, and to suit every taste. We have a large selection of floor and border packs. Available in many patterns, they contain all the tiles required to produce the design of your choice.
These packs range from simple elegant designs such as the Georgian style black and white chequered types, to beautiful Victorian mosaics containing many colours and shapes.
All of the patterns shown are authentic examples of actual floors. If you like a particular pattern but would prefer it to be made up from different colours, or with tiles from one of our other ranges, this is not a problem, we can customise the patterns to suit your requirements. Alternatively, if you prefer to create your own original pattern, you can use any of the 17 shapes and sizes available for your design, choose your tile range/colours and we will make up the floor packs for you.
Design help, and advice on quantities you will need to cover a particular floor area is always available via telephone or email. And new patterns are constantly being added to our website.
Contact details