Wilga van den Wijngaart...
Wilga van den Wijngaart...
Wilga van den Wijngaart, miniaturist and shop owner specializes in designs for hand knitted clothes for contemporary dollhouse dolls scale 1:12 and 1:24.
The patterns are published in 9 books. (9 of which are in Dutch and 6 books are in the English) language:

http://members.tripod.com/poppenhuis/boekenWilgavandenWijngaart.html
She has been making miniatures as from 1981 and has written many articles over the years featured in Dutch, Belgian, German and English dollhouse magazines.
The first article that she wrote was for The Dollshouse Magazine and dates from March 1999 issue 10 and was about her leather goods, paintings and knitwork. The second article was in the Christmas edition, December 1999 of The Dollshouse Magazine and featured her bookshop during Christmas season.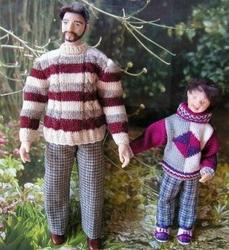 In her house in Belgium you will find 14 dollhouses, 9 dollhouse shops and several other miniature scenes. In the leather goods shop for example she sells her miniature shoes, boots, purses, larger bags and suitcases. Some of her miniature paintings are on little easels in a full size picture frame: http://members.tripod.com/~poppenhuis/framedpaintings.html
All paintings are professionaly framed by a Dutch frame maker.