True2Scale
True2Scale by Carol Mittlesteadt
True2Scale creates high quality, precision cut kits for miniaturists. These unique, do-it-yourself items add a touch of charm to your scale settings.

About
I enjoy combining my design skills with my love of miniatures. An extensive background in designing packaging for the retail industry (think cookie boxes in all shapes and sizes, packaging for pet products and baby items to name a few) has given me an understanding of how paper translates into three-dimensional pieces of art. I'm also a computer geek that gets excited about adapting technology to develop miniatures! These interests help me to create tiny, unique items specially suited for miniature settings.
I am interested in creating a mini scene within a scene. Currently, glitter houses and terrariums are my sources of inspiration. I like to imagine miniaturists putting the landscaped, glitter house scenes inside of their 1:12 and 1:24 scale scenes; or filling a scale terrarium with their favorite plants.

The Process
I begin by sketching an item. From the sketch, I create an outline of the item on the computer and output a prototype. I study the prototype for design, easy of assembly, and construction techniques. After many prototypes and revisions to the artwork, I choose the papers and materials to construct the final product. I take a great deal of time selecting high quality materials to use for each item. Many kits have multiple types of paper, each selected for their color, sheen, thickness, flexibility and texture. The papers are precision cut and put together with all of the trimmings needed to finish the kit, including detailed instructions.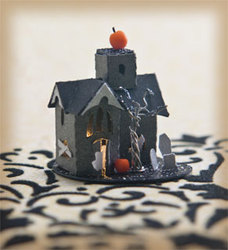 NEW! Glitter Houses
Perfect for your holiday scenes, the delightful glitter houses make your Christmas, Halloween and Spring settings sparkle with a charm reminiscent of yesteryear!
Do you love the look of tiny houses but you're unsure about working in such a tiny scale? The glitter houses are precut and perforated on the fold lines. No need for you to cut or measure! The houses can be assembled in minutes; most of the designs require a minimum amount of folding, and a little bit of gluing.
A multitude of decorating options are available using the included decorations; or customize the houses to your liking! Optional LED lights.
The glitter houses are sized to fit in a 1:12 or 1:24 scale setting.

Contact
Carol Mittlesteadt, True2Scale
email: true2scale.gmail.com
NEW WEBSITE - www.true2scale.com
play: true2scale.blogspot.com (free printables, templates and Photoshop tutorials)