The Knitting Lady
The Knitting Lady - Nicola Smith
My mother was a prolific knitter and dressmaker and thankfully she passed her love onto me at a very early age. Even whilst serving in the Royal Air Force I could be found sewing and knitting soft toys in my off duty time.
I discovered miniatures 10 years ago when my husband bought me my first dolls house as 'therapy' to help me with the postnatal depression I'd been suffering since the birth of my daughter.
Initially, I visited all the dolls house fairs I could find in my area and bought all sorts of kits to 'have a go', but finally decided that I enjoyed the knitting best. It wasn't long before I ran out of room in my own dolls house for all my knitted items and after approaching the owner of my local dolls house shop, I soon found an outlet for all my extra creations.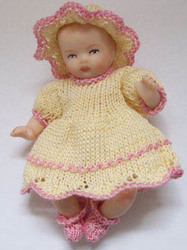 After great encouragement I took the step to show at my first dolls house fair. Initially I only sold ready knitted items but it soon become apparent that customers wanted to have a go themselves and after numerous requests for patterns and knitting materials, I decided this was the way forward.
I wanted to be able to provide the miniature knitter with everything they could possibly need under one roof. My little business has gone from strength to strength and I am very proud to be able to offer such an extensive range of accessories and knitting patterns from several talented individuals.
I hope you enjoy looking at my site and that you find what you are looking for. However, if you need any help or assistance please do not hesitate in contacting me.
Nicola