Chrystal's Designs
Chrystal's Designs by IGMA Artisan Sharon de Vries
Miniature knitted and crochet patterns designed for 1:12th and 1:24th scale dolls I have been knitting since I was four years old, Mom paid us a penny for each coat hanger cover produced. Looking back it was the perfect way to keep us out of mischief.
I then started knitting for my doll Rosebud. In my Gran's Woman's Weekly magazine there used to be patterns for this little doll. Those were way too complicated for a little girl and any way I did not know how to read a pattern. They certainly inspired me ....and a little girl could dream couldn't she..... I knew how to knit, so I could design in my fashion....in the way I knew how.
I have only ever knitted about six human garments as mom always enjoyed knitting for our children. For all our baby garments she only used 2 ply yarn, producing delicate matinee jackets and shawls.
My miniature knitting career started ten years ago ...While cooking I looked at a "Bear and Me" fridge magnet of a teddy wearing a striped dressing gown.
I thought how would I knit that, I wonder? This was knitted in garter stitch only, very doable.
The end result a dressing gown for a 4 inch teddy....it was well received by my friend Shelia and she asked me for the pattern....
My reply was "I don't have a pattern, it is in my head"
"Well" she said, "You had better write it down."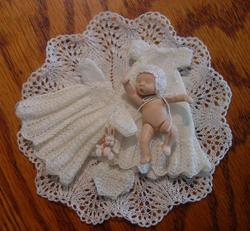 I enjoy designing for babies and toddlers, using from the very beginning the finest of threads available. When I discovered Venne 70/2 it became my thread of choice.
I was often asked why such thin thread, you should design patterns that are more doable.....my reply was, "In the future the more serious of miniature knitters will use this fine thread and then even finer, look at the wonderful detail we are now able to achieve.
For my knitted commercial patterns, Venne 70/2 thread is all I use, the thread gives the detail and delicateness to the garments.
For the crochet patterns, I use Mettler 50 or finer.
I am now an IGMA artisan and am busy working on my Fellow application.
Looking at my designs I seem to have specialized in producing layettes, especially long gowns for the babies who live in "My Miniature World"
I do design for larger dolls, eight inches being the largest one of all.
I also have a range of teddy bears under the brand "Chrystal's Children" for whom I design outfits.
You may see more of my work