Lili Goczal...
Lili Goczal (aka Weaverlili)...
I was a high school teacher for 21 years (French, Algebra, Computer Programming). After taking an early retirement, went to New Mexico.
Here I was inspired by gorgeous weavings. Bought my loom in 1995. Made lots of rugs, curtains, yardage for clothing in real size.


Started weaving in much finer threads. The Kaye museum in Los Angeles & miniature shops were interested in my miniature rugs.
They convinced me that I should do shows. So, that's what I did.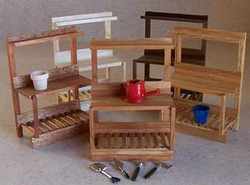 Eventually, I thought that I should reduce my 350 pound loom into 1:12 scale...after all, just measure & divide by 12. Done in solid cherry, oak, mahogany, maple or walnut. Big hit at the shows. Now, they wanted 1:24 scale. OK, did that too.


At this time, my love of working with threads (IGMA Artisan for Textiles) became a love of working with wood.


My inventory of fun includes: garden carts, dog houses, easels, Adirondacks, picnic tables, potting sheds, etc.


Recently began building cars & motorcycles for the empty streets & garages of the miniature world.
Contact Details...