Alices Emporium Miniatures...
By Jeannette Fishwick...
Jeannette began knitting around age 10 and quickly found that dressing dolls was her favourite thing to do, though she spent many hours knitting Aran and fair isle jumpers for family and friends.
Once her children had grown out of wearing handknitted jumpers a friend introduced her to porcelain doll making and after a while she discovered dollshouse miniature dolls and started making them.
Unfortunately she then fell at work and damaged her right knee and was told that in a few years she would be wheelchair bound…While resting the leg she started dressing these tiny dolls and while reading dollshouse miniatures magazines she discovered other miniature knitters overseas in Holland and the UK..As she had already planned an overseas she decided to still proceed with it and while in the UK and Holland she met with some of these Miniature Knitters. They were very sharing and she had a wonderful time.
It was wonderful to be able to find fine knitting needles, patterns, threads and fine silk ribbon so easily in the UK and Holland.
Now she had found supplies she began trading at miniatures and dolls shows in Tasmania. Initially offering handknitted items she found that most people were more interested in making their own items so she expanded the supplies section of her business. From there she progressed to designing her own patterns and early in 2009 the Dollshouse and Miniatures Scene magazine started printing her patterns in their magazine.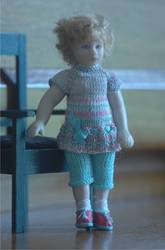 When Jeannette first started using the family computer in the late 90's she found some online minis lists and on one of them was offered a page to show her work. (Her husband bitterly regrets showing her how to use the computer!)
A chinese lady, Teresa Yu approached her offering to buy the outfits pictured on the site and so she started selling her actual knitting work. Teresa buys from many artists throughout the world to keep adding to her magnificent collection.
These days Jeannette supplies a variety of threads and miniature knitting patterns from her home in Tasmania. She will also knit for those who may have problems in knitting miniature items themselves.
You can also join Jeannette's Miniature Knitting and Crochet lists on Yahoo where over 700 like minded people meet to discuss and share information about miniature knitting and crochet.
There are three list to join. Once which is a general information and chat list, one to share patterns and photos of what we have made and one for selling supplies and items we have made.
For More information on these lists contact Jeannette at
To

directly to the home page of the Mini knitting and crochet list go to:
http://tinyurl.com/5pymo