Janet Granger Designs
Dollshouse Embroidery Kits by Janet Granger
Hi, I am Janet Granger. I have been doing embroidery since the age of four, and I've always loved tiny things. So, I suppose it was inevitable that I'd eventually end up running the kind of business that I do, designing all kinds of miniature needlepoint for doll's houses!
I did try to have a 'proper job' first – I worked in a public library for 17 years, before realising that it wasn't creative enough for me. I started my miniature needlepoint embroidery business in 1996, and have been working full-time on it ever since.
There are always more ideas than hours in the day, but I try to launch new kits at least twice a year. My range is now around 200 kits, plus charts and some accessories (such as tiny teapots that fit under the teacosies, for instance). Types of kits that I sell include carpets, cushions, bellpulls, footstools, wallhangings, tray cloths, Christmas stockings and tree mats, handbags and firescreens. I also sell silk gauze pieces, in counts from 32 (suitable for beginners – many of my kits use 32 count), right up to 60 count!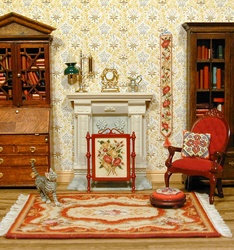 My website is www.janetgranger.co.uk . I am lucky to have my very talented husband to maintain my website for me – we were among the first in the world of miniatures to have a website, back in 1997, and it is now HUGE!! On the website you'll find a large online shop with secure ordering, many photos of projects made by customers, and general information to help you with your doll's house hobby. A significant part of the website is the free online tutorial section, where detailed instructions and photos are shown for each type of kit, so that you know exactly what you will need to do to successfully complete your project.
I also have a blog, where I focus mainly on embroidery – not always miniature, though. I feature 'full-size' embroidery that I may be working on, as well as writing about books that interest me, and places I've visited. My blog is at http://janetgranger.wordpress.com
Contact details:
Janet Granger
Rose Cottage
Leek Road
Waterhouses
Staffordshire
ST10 3JS
Email: mail@janetgranger.co.uk
Tel: 01538 308860.