DianeYunnieMiniature Dolls
DianeYunnieMiniature Dolls by Dianne Yunnie
My love of miniatures and dolls started at an early age when my parents made me a dolls house as a Christmas gift.
I spent many hours making furniture and creating new outfits for the residents
Later I became a Maths and House craft teacher and so the sewing skills and pattern developing improved.
Years later Porcelain Doll making also became popular and I started making the larger dolls, but these got smaller and smaller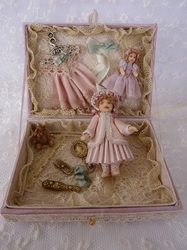 I have now been making miniature dolls for the last 18 years In 2009 I obtain the I.G.M.A. status.
I make dolls from 6 inches to 1 inch Men ,Women and children from all eras.
The little dolls that come in boxes with their accessories are really enjoyable to put together
E Mail - dianeyunnie@gmail.com
My Work can be found at: