Christine Verstraete
Christine Verstraete - author and CAV Miniatures
· Author, Searching for a Starry Night, A Miniature Art Mystery - Friends Sam and Lita, along with a mischievous Dachshund named Petey, face a dog-hating gardener and a crabby housekeeper as they search for a missing miniature replica of Van Gogh's Starry Night. Includes descriptions of some of my own dollhouses and roomboxes. For ages 9 and up. (In Kindle, coming in ebook, and a new print version is coming shortly.) See http://cverstraete.com/Starry_Night.html
· Author, In Miniature Style, cd/eBook with profiles, photos and how to's.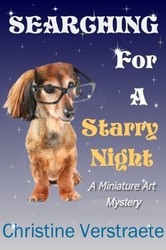 · The new In Miniature Style II is coming in print in spring 2011. The book includes new profiles and photos, plus over 40 how to's , with contributions from noted miniaturists and IGMA artisans Kathi Mendenhall and Lucie Winsky.
· Plus I make different items for sale, specializing in miniature medieval and spooky books, Haunted and other Halloween items.
· Contact me at website or blog or email - cv1@cverstraete.com
· website: http://cverstraete.com blog: http://candidcanine.blogspot.com