BEATRICE THIERUS...
Les Miniatures de Béatrice...
My name is Béatrice Thiérus and I live in France near Fontainebleau (famous for its wonderful palace) about 80km south of Paris. I make and sell miniature 1/12th scale porcelain dolls.
At first, I started decorating bigger and bigger dolls houses and I enjoyed making them "alive ", I began dressing up the dolls themselves. Now, I make the dolls entirely and I create miniature scenes.
I always love fashion, especially past times where women were so elegant! I find my inspiration in books, paintings... but it is always "my" dolls who determine the period that I must chose.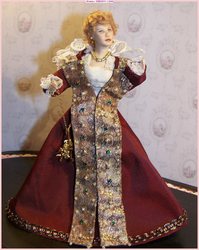 My passion for history, fashion, old costumes, painters and traditions is my main source of inspiration for my dolls. I do take great care painting the dolls to get an expressive face.

The dolls have always shoes and underclothes, using finest silks and antique French laces and ribbons for the clothes.
Accessories
I now have a small range of accessories - jewels, shoes, purses - and hope to develop more in the future.
I sell my work in my CDHM gallery

http://www.cdhm.org/user/beatrice ,

on my website: http://myminiatures.net/
I am happy to undertake commissions.
This year, I will be present on several fairs in Europe.