A Li'l Whimsy
A Li'l Whimsy by Lillian Alberti
I am an Art doll artist and workshops teacher. I have been creating one-of-a-kind Art dolls for over twenty years. My dolls have been featured in many doll related publications including Art Doll Quarterly, Contemporary Doll Collector magazines, both U.S Publications, and most recently, Dollshouse and Miniature Scene magazines.
Although my dolls, primarily consists of large pieces measuring 17"–18" tall, and, at times, even larger, I have always been drawn to "little" things. A few years I ago I decided to combine my two most favorite things, doll making with miniatures and set about exploring this idea further by creating miniature doll(s) within a shadow box. I try to stay within the 1/12th scale format but, at times, they are slightly larger where necessary.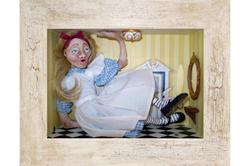 Each of my collectable shadow boxes are hand crafted and when completed, each receives a signature tag that tells its own story. I consider this the "written" component that completes the "illustrated" shadow box.
Contact details:
Business: A li'l whimsy
Name: Lillian Alberti
2 High Hill Avenue
Warwick, New York 10990
U.S.A
Email: albersich@yahoo.com
Website: www.a-lil-whimsy.com