Adelaides Miniatures
Adelaides Miniatures by Adelaide Cann
Adelaide Cann is an Australian Artisan in MIniature who works mainly 1:12 scale (dolshouse scale) and smaller. She specialises in creating laser cut miniature accessories in wood, card and plastic for kitchen, toy and bedroom scenes.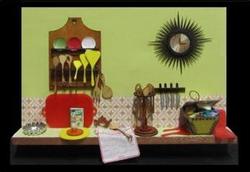 Adelaide sells Kits and finished works at shows in Australia, online and delivers workshops on her creations regularly. She lives on the east coast of Australia in Sydney, New South Wales.
"Her ability to create tiny, believable worlds of her own invention in 1:12 scale and smaller is remarkable and they are always of the highest quality and stand up to the closest scrutiny."